Search
On sale
Antenna Pro Pagoda 2.1 Super Long
Dispatched within:
7 working days
Gross price:
57,00 zł
57.00
product unavailable
add to wish list
* - Field mandatory
4.44873
Product code:
81_20200427141706
Description
Looking for an antenna with a longer cable? The Prodrone Pro Pagoda 2.1 may be just what you need! With a total length of 20cm, this antenna is perfect for those times when you need to fly behind you and want to avoid any issues with your head blocking the signal from your transmitter.
The Pagoda antenna is a circularly polarized antenna that was originally designed by Maarten Baert. The Prodrone Pro Pagoda 2.1 is a next generation version of this antenna that boasts a great axial ratio of 1.3 and an efficiency of 95%. It's also reasonably small, durable, and lightweight, making it a great choice for drone enthusiasts who want to keep their equipment as streamlined as possible.
One of the biggest advantages of the Pagoda 2.1 antenna is its good omnidirectional radiation pattern. This means that the signal is broadcast in all directions, so you don't have to worry about pointing the antenna directly at your drone. Additionally, the antenna has a good axial ratio, which helps to minimize any interference from objects that might be blocking the signal.
When you buy a Prodrone Pro Pagoda 2.1 antenna, you can be confident that it has been carefully manufactured and tested for quality. The small modification of holes to fit better to RG402 cable and make solder points stronger gives you a better antenna with good quality soldering. Each antenna is also checked on a spectrum analyzer, which is a crucial step in the manufacturing process. Antennas that operate at 5.8GHz require very tight tolerances, and even small changes in the dimensions or geometry of the antenna can affect its resonance point and center frequency. With the Prodrone Pro Pagoda 2.1, you can be sure that you're getting an antenna that has been precisely manufactured and optimized for the best possible performance.
In terms of specifications, the Prodrone Pro Pagoda 2.1 antenna operates at a frequency of 5.8GHz and has a gain of 1.1 dBi. The vSWR is lower than 1.3, and the maximum power input is 50W. The connector can be either SMA or RP-SMA, and the antenna comes in either right-hand circular polarization (RHCP) or left-hand circular polarization (LHCP).
In summary, the Prodrone Pro Pagoda 2.1 antenna is an excellent choice for drone enthusiasts who want a durable, lightweight, and efficient circularly polarized antenna with good omnidirectional radiation and axial ratio. With its high-quality manufacturing, precision tuning, and performance testing, you can be confident that this antenna will give you the best possible signal for your drone flying needs.
Radiation pattern of Pagoda-2.1 antenna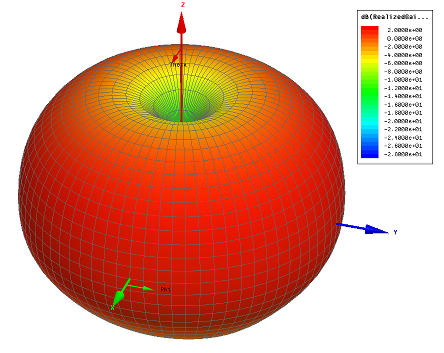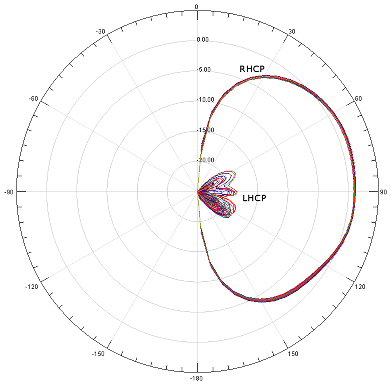 Why choose Prodrone Pro Pagoda 2.1 ?
1. Quality soldering
2. Each antenna is checked on spectrum analyser.
Why checking antenna is so important ?
Manufacturing antennas for 5.8Ghz need very tight tolerances. Even small change of dimensions, geometry (even so small ad 0.1mm) will change their characteristics (resonation point - centre frequency).
Below is example. Antennas assembled in our assembly jig, which is more precise than original one designed by Maarten. You see how they differs their characteristics.
Buying our antennas you will know how use them properly - on which frequency they will have best performance.
Specification of Prodrone Pagoda 2.1 antenna
Working Frequency: 5.8GHz
Omni directional antenna
Gain: 1,1 dBi
Antenna length: ~20cm
vSWR: lower than 1.3
Maximum power input: 50W
Connector: SMA or RP-SMA
Polarization: RHCP or LHCP (LHCP will be in black)
Pagoda-2.1 antennas are made under licence CC BY-SA 4.0 from Maarten Baert:
http://www.maartenbaert.be/quadcopters/antennas/pagoda-antenna/
Product reviews (4)