Search
Pro Mox_R v2 868Mhz / 915MHz 5.5dbi
Dispatched within:
7 working days
product unavailable
add to wish list
* - Field mandatory
4.66667
Product code:
149_20220810120609
Description
Stronger - better...
This is improved version of our Mox_R.

Mox_Rv2 compared to previous version (which had printed frame) is way more durable antenna. 
Antenna has also better parameters.

Gain of MOX_Rv2  is about 5.5dBi. 
This antenna can be ordered for frequencies 868 or 900 or 915 Mhz.

This frequency is mainly used by Crossfire, FRSKY, ExpressLRS, LORA, LoraWAN transmiters.

Moxon can be visualized as a 2-element yagi with the element tips bent towards one another.
This is great upgrade to typical rubberduckies equipped with transmitters. Range extension is over 70% !
Moxon antenna has high gain, has very good characteristics and is "almost" omnidirectional. It has null only on back of antenna.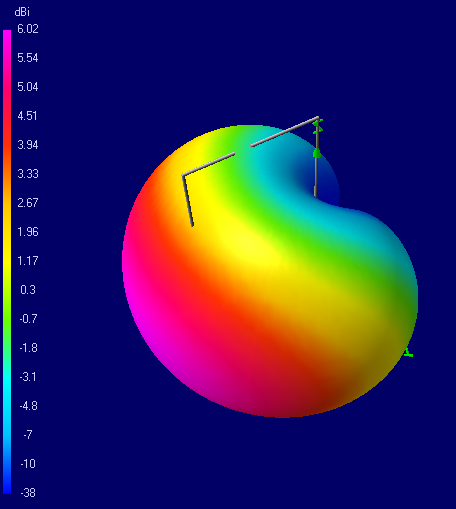 Moxon antenna offers three  advantages:
Small in physical size - which makes an excellent field antenna.
Outstanding front to back ratio. The Moxon's front-to-back ratio models is about 30dB
The Moxon is a 50ohm antenna, generating a near perfect 1:1swr without requiring any additional matching devices. It is also quite broadbanded allowing for effective full band coverage.
Extremly wide beamwidth when used verticaly - over 250 degrees
our MOX_Rv2 is very durable antenna
 
Our Moxona is good quality antenna. We always tune each antenna for desired frequency.
So if you will place order for 868MHZ then you will get antenna specially tuned for that frequency.


Specification of Prodrone MOX-Rv2 antenna
Bandwidth: 868, 900, 915MHz (frequency is chooseable)
Beam width: over 250 degrees
Gain: 5,5 dBi
Antenna length (from end to end, with cable): ~18cm(+-3cm)
vSWR: lower than 1.2
Maximum power input: 50W
Weight of antenna: ~22g
This antenna can be used with any system that works on 868,900,915Mhz  band - frsky, TBS, Radiomaster, iflight, wifi routers, expresslrs, betafpv, Orqa etc. and have connector or can be modded to use external antenna.
Kolor elementów drukowanych może zostać zmieniony bez wcześniejszego powiadomienia. Zmiana koloru tych elementów nie wpływa na charakterystykę anteny.
Przed montażem anteny proszę przeczytać:
https://shop.prodrone.pl/czeste-pytania
Product reviews (2)