Search
Pro Moxon 2.4Ghz 5.5dbi
Dispatched within:
7 working days
product unavailable
add to wish list
* - Field mandatory
3.95454
Vendor: -
Product code:
100_20170514081520
Description
Gain of Moxon antenna  is about 5.5dBi and this is real gain. This antenna is tuned for frequencies 2400-2450Mhz which are used in RC transmitters.
Moxon can be visualized as a 2-element yagi with the element tips bent towards one another.
This is great upgrade to typical rubberduckies equipped with transmitters. Range extension is over 70% !
Moxon antenna has high gain, has very good characteristics and is "almost" omnidirectional. It has null only on back of antenna.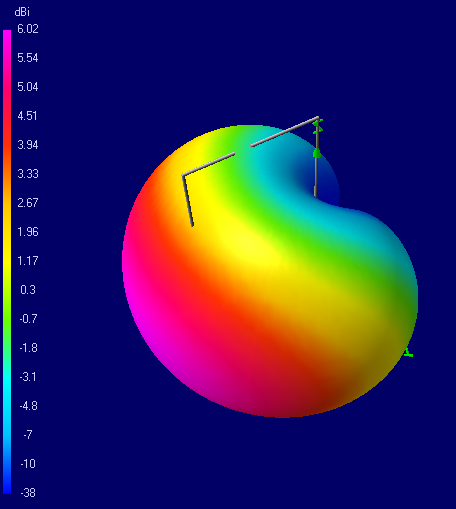 The Moxon antenna offers three  advantages over a typical two element Yagi:
Small in physical size - which makes an excellent field antenna.
Outstanding front to back ratio. The Moxon's front-to-back ratio models is about 30dB.
The Moxon is a 50ohm antenna, generating a near perfect 1:1 swr without requiring any additional matching devices. It is also quite broadbanded allowing for effective full band coverage.
Specification of Prodrone Moxon antenna
Bandwidth: 2400-2480 MHz
Beam width: over 180 degrees
Gain: 5,5 dBi
Cable length: ~7cm
Antenna conductor: 1mm silver covered pure copper
vSWR: lower than 1.3
Maximum power input: 50W
Connector: SMA or RP-SMA
Weight of antenna: ~6g




This antenna can be used with any system that works on 2.4gHz band - frsky, TBS, Radiomaster, iflight, wifi routers, expresslrs, betafpv, Orqa etc. and have connector or can be modded to use external antenna.
Product reviews (11)