Search
Product of the Day
15,00 zł
27,00 zł
45,00 zł
DJI Digital FPV HD_L antenna set
249,00 zł
Pro Moxon 868Mhz / 915MHz 5.5dbi
Dispatched within:
10 working days
product unavailable
add to wish list
* - Field mandatory
4.5
Product code:
149_20171106130854
Description
Antena Moxon 5.5dbi 868Mhz
Zysk tej anteny to 5.5dbi.
Jest to kompletna antena z opracowanym systemem montażu.
Antena typu Moxon to właściwie (w sporym uproszczeniu) 2 elementowa Yagi. Jednak w porównaniu do anteny typu Yagi, posiada ona prawie dookólną charakterystykę. Jedynie za anteną (za reflektorem) następuje spory spadek zysku anteny.
Zysk 5.5dbi jaki oferuje antena pozwala na spory przyrost zasięgu zestawu.
Charakterystyka promieniowania anteny typu Moxon: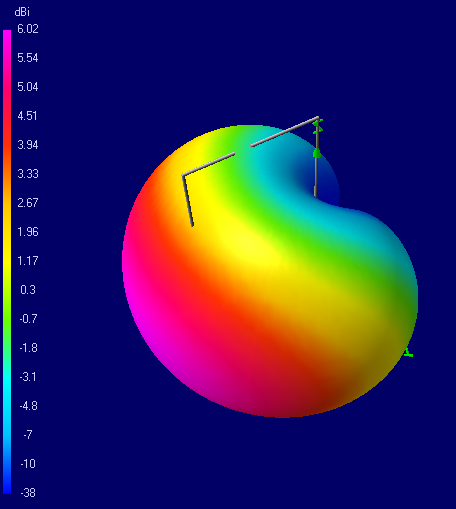 Główne zalety anteny typu Moxon:
1. Małe rozmiary, co znacznie ułatwia transport jak i użytkowanie.
2. Duży zysk w porównaniu do gabarytów
3. Impedancja tej anteny to 50ohm, co pozwala na uzyskanie bardzo dobrego dopasowania bez stosowania dodatkowych zabiegów jakimi np. są transformatory.
4. spory zakres częstotliwości w jakim antena posiada przyzwoite parametry dopasowania.
Parametry anteny typu Moxon.
Pasmo: 868
szerokość wiązki: ponad 200 stopni
Zysk: 5,5 dBi
Długość przewodu RG316: ~30cm (+-4cm)
Elementy promiennika: drut z czystej miedzi 1mm
vSWR: poniżej 1.3
Moc: max 50W
Waga anteny: ~22g
Złącze: SMA lub RP-SMA
Kolor elementów drukowanych może zostać zmieniony bez wcześniejszego powiadomienia. Zmiana koloru tych elementów nie wpływa na charakterystykę anteny.
Product reviews (0)
Language / język
Choose shop languange / wybierz język.
Currency / waluta
Choose your currency / wybierz walutę